https://media.destinationcabo.com/images/user-images/image/villa-del-arco/optimizada_12-Villa-del-Arco-Cabo-San-Lucas-Experience-Couple-Lounge-Chairs.png
The area of Los Cabos (Cabo San Lucas and San Jose del Cabo) has an abundance of vacation attractions, surrounded by beautiful beaches and a water wonderland. Guests at Villa del Arco find a lot to do in Los Cabos. On this page you will find information about many of these activities. We hope this will help you in planning your Villa del Arco vacation.
Los Cabos has some of Mexico's finest beaches (see Beach Section below). Water sports include Scuba diving, snorkeling and swimming in the sparkling water. The bay in front of Villa del Arco is alive with watercraft, sea kayaks, catamarans and parasailors. It is easy to rent the water toy of your choice, from high-powered Jet Skis or Sea Doos, to quiet self-powered sea kayaks.
Sport fishing is excellent (see Fishing Section below -- Cabo is known as "the marlin capital of the world"). The world's richest bill fishing tournament is held in Cabo San Lucas: The Bisbee's Black & Blue and the Offshore tournaments are held annually in October.
World-class golf courses (some with ocean-front holes!) are nearby (see Golf Section below).
There is whale-watching during the annual visits of grays, orcas, humpbacks, and blue whales from December to March (see Whale Watching Section below).
Also many land-based activities are offered, including ATV tours, horseback riding, hiking, and sightseeing. There are lots of restaurants, night life, and bountiful shopping opportunities as well. (See the Sections below for more information.)
The Concierges at Villa del Arco can give you more information on these activities and help you make the reservations.
Los Cabos Area Beaches near Villa del Arco
All Los Cabos beaches are open to the public. Many accessible beaches are isolated, and can be wonderful for beachcombing. Some have world-class surf, while others are calm, with a multitude of colorful tropical fish.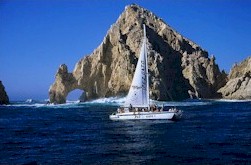 Some beaches are crowded with resorts and commercial activities. Click here to explore 17 beaches.
Areas with coral reefs, shipwrecks, underwater caves and caverns are great for Cabo Scuba Diving and Snorkeling adventures, taking advantage of the aquatic splendors available in this area called Los Cabos.
Cabo Sport Fishing
Many people claim that Los Cabos Sport Fishing is the world's best (Cabo is the Sports Fishing Capital of the World). Some of the world's deepest water is just offshore. Over 650 different species of fish swim through these beautiful waters. Record marlin, sailfish and swordfish, tuna, roosterfish, wahoo, rays and many others are caught here.
Because of the sudden depth of both the Pacific and the Sea of Cortez, surf fishermen catch many deep-sea species, even from the beach. Surf fishermen can be seen fishing from the beach in front of Villa del Arco.
Whale Watching in Los Cabos
Grays, orcas, humpbacks, blues and other whales can be seen in Baja waters. The world's largest fish, the whale shark, is also found here.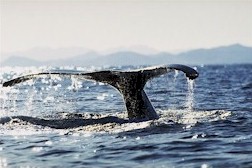 Frolicking gray whales in Cabo's Bay provide wonderful whale watching from January to March. With a moderate size, they range in length from 40 to 50 feet and can weigh up to 73,000 pounds.
These whales migrate some 6,000 miles south from Alaskan and Siberian waters to winter in the warm waters of Baja California and the Sea of Cortez. Here they find shelter, food, and give birth to their young.
Whale petting is a popular tourist attraction. North of Cabo San Lucas on the Pacific side, there are several protected lagoons which are winter breeding and calving waters for gray whales and other species. Tourists hire boats to pet the whales, or to watch them crash out of the water up close. In some places the whales allow visitors to pet them from fishing docks.
Cabo Golf
Los Cabos has become one of North America's hottest golf destinations. Here ocean-front holes provide beauty with a considerable amount of difficulty. These world-class golf courses boast designs by Jack Nicklaus, Roy Dye, and Trent Jones. The variety of settings range from mountainous terrains to being nestled near the beach. Many say these courses are among the finest anywhere.
Click here for descriptions of 6 Cabo golf courses.
Riding and Hiking
Horseback riding is available for mountain and beach trail riders. Hikers and mountain bikers can take trips into the highland peaks and valleys of the nearby mountains, the Sierra de la Laguna. Many species of plant life are found here and nowhere else on earth, due to the unique blending of alpine forest and desert.
Many who visit Los Cabos take the glass-bottom boat ride to the Arch (El Arco). The hour-long outing gives visitors a lesson in geology and marine life, and passes by Lover's Beach. This is a spit of beach between the tall rocks, where sunbathers can be dropped off and picked up later.
Restaurants and Shops
Those who prefer shopping or sightseeing can find plenty to look at. Fine arts, jewelry, crafts, food and drink are available in abundance.
The new Puerto Paraiso Mall, near the marina of Cabo San Lucas, will hold over 200 stores, indoor/outdoor restaurants, a 10-screen cinema, bowling alley and children's play center. Various areas of the mall overlook the downtown marina.
At night, few places can compete with the night-life of Cabo, with its dozens of Cabo restaurants, discos, clubs, and bars from which to choose.
The Concierges at Villa del Arco can give you more information on these activities and help you make reservations.
Guest Comments -- Favorite Cabo San Lucas Beach Resort Activities
These are some vacation activities that our guests have tried, liked, and told us about:

- "I loved walking up the beach to downtown Cabo San Lucas and viewing the many shops (I did it 4 times!). I sailed on the Pirate ship sunset cruise -- what a rush!"

- "We did most of the activities -- ATV Lighthouse Tour (2 times), Waverunners, Banana Boat, Parasail (2 times), Pirate ship snorkel tour, sport fishing (caught 9 tuna), and took the glass-bottom boat trip to Land's End. The people from Cabo were very friendly and helpful."

- "The people were all so friendly, from the people working at the resort, to the taxi drivers, to the vendors on the beach. Seemingly everyone was 'mucho feliz'. We tried to communicate in Spanish (and Spanglish) as much as we could, and it was really appreciated. It would make them smile."

- "The beaches were some of the best I have ever been on. I parasailed for the first time, which was awesome. And we rented a car for a day and drove to Todos Santos. It was definitely a calm and relaxing vacation -- one I look forward to taking again."

- "I loved the accommodations, the kids loved the beautiful pools and the beach. We went snorkeling, on boat trips and a magical horseback ride along the beach at sunset. I visited the Spa and had an amazing massage. The people are all so friendly. It was like being in Paradise. We had a fun, relaxing trip that we will remember for a long time."

- "We went sport fishing and caught 7 yellow fin tuna which yielded 30lbs of meat. We saw whales, a shark, and even the marlin that got away. WE HAD A BLAST!"
The Concierges at Villa del Arco can give you more information on these activities and help you make reservations.

Enter Our Coupon Code and Get Access to Member Rates Today!
---
SIGN UP AND SAVE
Get access to special rates and exclusive pricing

Watch for Great Deals!

Monthly Newsletter

Insider Pricing

Save Nearly 80%!
---